The 2022 Subaru Love Promise Community Commitment Award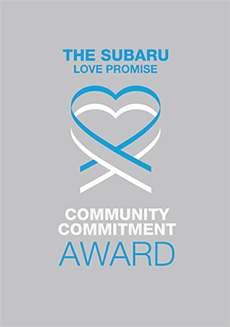 We've been nationally recognized for our dedication to our community and the Subaru Love Promise.
We're honored to receive the 2022 Subaru Love Promise Community Commitment Award. This award nationally recognizes Subaru retailers who are making the world a better place while demonstrating an outstanding commitment to supporting passions and causes in local communities. These efforts are focused in important areas such as the environment, community, health, education, and pets.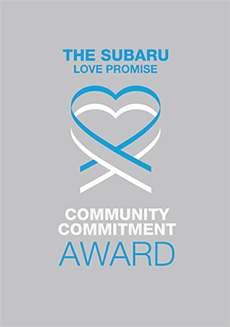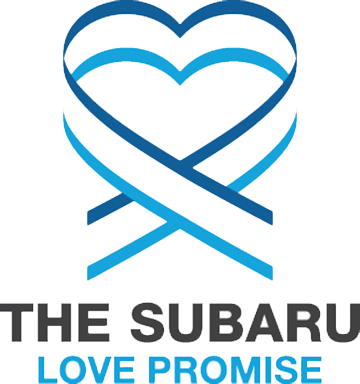 What is the Subaru Love Promise?
Subaru and our retailers believe in making the world a better place and the Subaru Love Promise is our vision of respecting all people. This is our commitment to show love and respect to our customers and to work to make a positive impact in the world.
How is Sunset Hills Subaru dedicated locally to the Love Promise?
Please use the example you have provided to us. Thank you
Woerner Elementary School/St Louis Public Schools
Ritenour Co-Care Food Pantry, Epworth Children and Family Services
Leukemia & Lymphoma Society
Love Promise Stories from Sunset Hills Subaru
Subaru and Sunset Hills Subaru believe in making a positive impact on the communities in which we live and work. We uphold that belief through our Love Promise Community Commitment. Every month, we select inspiring stories from customers and partners from around our area who strive to support our collective commitment and feature them here
Why I purchased a Subaru - Jeff P
Ryan and Blake, On April 8, 2022, I ordered a Subaru Outback (#117359299) from Sunset Hills Subaru. My intent was to purchase a Toyota or Honda, and to just look at Subaru's "to look." But two people at Sunset Hills welcomed me, informed me, and made me want to return with my wife to buy a Subaru. Those two people were receptionist/customer courtesy representative Patty Muehleisen and product specialist Lexi Camburn.Since 1983 when I first owned a car, Toyota or Honda vehicles were the vehicles I owned. So I visited both a Toyota and Honda dealership- both dealerships that I have purchased and serviced vehicles, in my search to find a new vehicle. Understanding today's challenges in buying a vehicle and the changing landscape within dealerships, I was not prepared for the responses that I received at the visited Toyota and Honda dealerships. I was invisible by all, with a seeming indifference/unwillingness to engage with options to achieve a mutual goal- to help find and buy a new vehicle. As a result, I decided to visit Sunset Hills Subaru.Upon first entering Sunset Hills on April 7, I was gladly welcomed by Patty Muehleisen. Patty asked how she could help me. We chit-chatted, she introduced me to Buddy, and she called for a product specialist. Lexi Camburn answered Patty's call. Lexi had me explain my interests/needs in a new Subaru vehicle, and I test-drove a Crosstrek. The following day, I returned with my wife and was able to test-drive a Forester and Outback. We decided upon an Outback, and Lexi helped us find a vehicle that suited our needs and was realistically obtainable in the shortest amount of time. Our new Outback is estimated to arrive May 17.Though the deal is not finalized in our ownership of a new Subaru Outback (hopefully financing at Sunset Hills will be as productive/memorable), if it were not for Patty's and Lexi's professionalism, I would not now consider myself a Subaru owner. Please pass along this message to Patty, and we hope to be in soon to finalize this purchase.Thank you,
---
Making a Dog's Day - Sherry N
The Animal Protective Association (APA) of Missouri extends its sincerest gratitude to Sunset Hills Subaru for its Love Promise to support the welfare and adoption of animals in our community. As part of the "Make a Dog's Day" celebration, Sunset Hills Subaru opened its doors to welcome some of our longer-term residents - Copper, Felicity and Louie - to help raise awareness about the APA Adoption Center and to show Subaru's commitment to their Love Promise. From beginning to end, the staff made it so fun and engaging. They were genuinely excited to interact with the adoptable dogs we brought, providing affection, play time and the occasional treat! It was impressive to see how the community showed up and brought their pets by the event, many dressed up in their Halloween costumes. What really touched us was that Sunset Hills Subaru announced that they wanted to sponsor the adoption fees for the three dogs brought to the event by the APA. This kind gesture went above and beyond our expectations. This event also provided these longer-term residents of our Adoption Center the chance to get a change of scenery and socialize with some new friends. Ultimately, this event and the support of Sunset Hills Subaru helped find homes for many dogs and cats that weekend. We are so incredibly appreciative of the partnership with Subaru, both at the national and local level, and look forward to next year's event! Copper's Love Promise Story While most of the dogs at the APA Adoption Center have a fairly short stay with us until they find their new family, Copper happened to be one of our longer-term residents. Sunset Hills Subaru, our retailer partner, was so thoughtful and generous and decided to sponsor Copper's adoption fee to give this little guy an extra boost towards "furever" happiness. This gesture paved the way to get Copper noticed and he ended up in such good hands - and hearts. Copper is now the very much-loved pup of a veterinarian. Congratulations, Copper, and thank you Sunset Hills Subaru for making this Love Promise Story happen!
---
Partnering for Hunger Relief - Sister Brenda F
Partnering for Hunger Relief. In the words of Executive Director, Sister Brenda, the staggering generosity of our Sunset Hills Subaru sponsor is "a God thing." The amount donated to Ritenour Co-Care Food Pantry from several recent Subaru Share the Love events will cover half of the pantry's annual operating expenses. Sunset Hills Subaru and Ritenour Co-Care Food Pantry partner to help relieve the toxic stress of food insecurity in the Overland and St. Ann communities. An average of 55 households/day visit the pantry for a "grocery store-like" shopping experience. Each household chooses among a number of frozen meats; dairy products; canned soup, vegetables, and fresh fruit; cereal; bread; canned or jarred protein such as tuna and peanut butter; bread and bakery items; and fresh eggs. Also available are feminine hygiene products, personal care products, hand sanitizer, and paper goods including toilet paper. Keisha is just one of the hundreds of neighbors in need who visit the pantry. Keisha and her fourteen year old daughter recently escaped a violent and abusive home situation. Keisha was referred to the pantry by a school administrator. Keisha is beyond grateful for the assistance, as she and her daughter settle into their safe housing. In addition to nearby neighbors who visit the pantry regularly, we have the opportunity to assistant families in immediate crisis situations. Jeanette and her extended family received food and personal products from the pantry when they landed in St. Louis following the destruction of Hurricane Ida in the late summer 2021. Thanks to Sunset Hills Subaru. We can't say enough about the ongoing partnership and friendship developing between Sunset Hills Subaru and the pantry's boar and the Executive Director. In addition to the annual Share the Love event, Stephanie Stinebaker and her Subaru colleagues are in contact with us throughout the year. For example, Stephanie and her trivia team attended the pantry's annual Trivia Night fundraising event, while at the same time, supporting the event as a sponsor. Our trusted partnership with Sunset Hills Subaru is a blessing for those coming to the pantry to shop! Ritenour Co-Care Food Pantry is operated by a 100% team of volunteers, including administration. The food pantry is housed in 8,000 sq ft of the Ritenour School District's Husky Support Center in Overland, MO. This large facility offers the pantry ample space to house a commercial sized walk in freezer and a walk in cooler plus 12 stand up cooler and freezer units. We are blessed to have Sunset Hills Subaru serve the major sponsor of Ritenour Co-Care Food Pantry!!
---
Ritenour Co Care Food Pantry Trivia Night - Ryan B
On Saturday, October 9th Ritenour Co Care Food Pantry hosted their annual Trivia Night. They weren't sure what to expect as far as to turn out since the COVID surge returned to our area and tables were selling slowly. They cautiously set a fundraising goal of $25,000 only to reduce it to $20,000 a few weeks later. Over the last two years, Sunset Hills Subaru has formed a solid relationship with the food pantry through the Subaru Share The Love event held every December. We have become their biggest supporter. They called on us for ideas on how to get sales up and make the night a success. Without hesitation, we bought the seven remaining tables for sale and donated an additional $4,000 to help them reach their goals. Finally, the night of the fundraiser arrived. Many of our dedicated employees showed up in support of the event. To our surprise the gymnasium was full! The energy levels were high, happiness was everywhere. We were all there for the same thing, to support a group of very enthusiastic volunteers and help them keep their doors open to serve our community who is in the most need. We all made new friends, bid on and won silent auction items, we had a great time. The night went by very quickly. All-day Sunday we wondered how much money they ended up raising on Saturday night. Monday afternoon we got the email from Angela over at the pantry with the total. They raised over $27,000! We love our new friends at the Ritenour Co Care Food Pantry and wish to be their source of support until the need for food pantries is no longer an issue for our community. It doesn't matter if it's Share the Love season in December or at any time throughout the year they find they need a little extra support.
---
Rescue Dog - Marilyn G
Sunset Hills Subaru not only goes above and beyond to provide stellar service - not to be taken for granted "these days" -- but they also have a rescue dog who resides (during business hours) at the dealership. As a dog trainer, I appreciate how well-behaved this little dog is. Additionally, I know the value of the human/animal bond and realize the benefits the rescue dog provides to people who work at Sunset Hills Subaru as well as to customers. I admire companies who "walk the walk," and Sunset Hills Subaru does this in many ways. Subaru's support of animal organizations is one of the many reasons that I have bought a fourth Subaru - over many years -- and continue to recommend Subaru to my friends. Keep the faith ~
---
Cali's Adoption - Lauren M
Jellybean arrived at the APA, in the midst of the pandemic, after being transferred from a local rescue partner who did not have the resources to care for her. She was pregnant and heartworm positive. Once she arrived at the APA, Jellybean immediately went to stay in a comfortable foster home, where she delivered and cared for her 10 puppies, who all quickly found new, loving homes. Soon after, Jellybean, began her heartworm treatment, as well as her long wait for a human to call her own. It took this sweet girl 7 months to be adopted, but her wait was more than worth it, because she found the perfect dad. Jellybean was adopted by a truck driver who made her his co-captain and renamed her Cali. They were both overjoyed to have found one another and have been traveling long distances together ever since, making sure to stop by plenty of attractions, like Mount Rushmore, along the way.
---
Wow! - Brenda S
We were impressed the moment we entered Webster Groves Subaru. The showroom was a hub of people and smiles and was the kind of place we wanted to be a part of. We decided we wanted to purchase a Forester and the staff worked with us to focus on the level we wanted. However, when the time came to received the one we wanted, it was taken. They worked to get us one that meet our requirements and a few weeks later they had one for us. The day we received our 2019 Forester the system needed an update to sync with our new X R IPhones so they sent us to lunch at a lovely restaurant down the street while they updated the system. The manager/owner and all of his staff focused on us and meeting our needs. We have never had such a positive experience when purchasing a vehicle and the team at Webster Groves made sure of that. Everyone of them are professional, a class act and I tell everyone including posting on FaceBook...do yourself a favor and go to Webster Groves when you are looking to buy a car! As a side note, I initially was working with another Subaru dealership in west St. Louis and that experience drove me to go to Webster Groves. And I am glad I did!
---
Subaru Shares The Warmth - Debbie K
On Thursday, June 20, 2019 the Gateway Chapter of The Leukemia & Lymphoma Society along with Stephanie Stinebaker and Sean Sullivan of Webster Groves Subaru had the pleasure of delivering 80 blankets and 10 arts & craft kits to St. Louis Children's Hospital as part of the Subaru Loves To Care program. These comforting gifts were accompanied by personalized messages of hope written by the customers and staff of Webster Groves Subaru. This incredible act of generosity was warmly received by Melody DeWeese, Child Life Coordinator at St. Louis Children's Hospital, who was thrilled to distribute these gifts to the patients. LLS is proud to partner with Subaru to spread hope, love and warmth to those fighting cancer, across the country and right here in the St. Louis community.
---
Second Chances with HSMO - Shana C
We just wanted to say that Lawrence, one of the rescued Mastiffs featured in tonight's #HSMOTelethon on KSDK says POOCHES gracias for being a sponsor of the show!
---